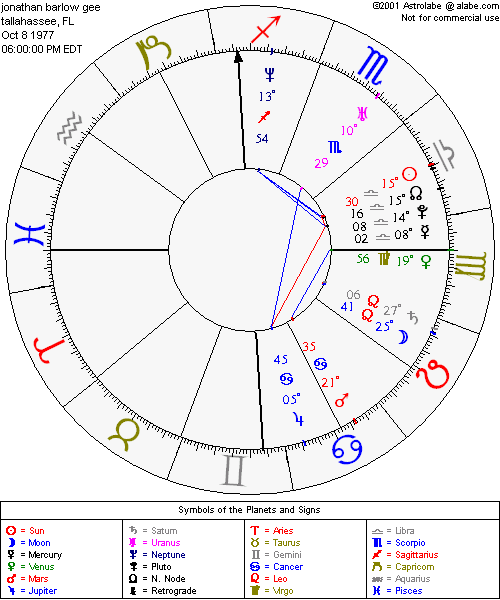 Name: jonathan barlow gee

October 8 1977

6:00 PM Time Zone is EDT

tallahassee, FL
Rising Sign is in 20 Degrees Pisces

Very sensitive to your surroundings, other people's feelings become your feelings. Try to avoid negative people because your tendency to empathize with them will make you negative also. An idealist, you must believe in something beyond your normal everyday existence. A dreamer, you like to escape to a world of your own creation. As such, you are known for the vividness of your imagination and should try to share your inner visions with others. Very self-sacrificial by nature, beware of others becoming overly dependent on you or vice versa. Allow yourself to live for yourself once in a while -- you deserve it. Don't be so envious of those who are more aggressive than you -- your gentle charity and true humility are indeed wonderful gifts. on the tenth house cusp (MIDHEAVEN).
Sun is in 15 Degrees Libra.

Very sociable, you enjoy being with others and definitely prefer not be alone. Warm and affectionate, you go out of your way to make others like you. You despise ugliness, for you being surrounded by beauty and harmony is a necessity of life. You prefer fine clothing, an attractive home and pleasant surroundings wherever you are. Your refined tastes apply to music and to art as well. At times, you are very indecisive you waver and falter when forced to make a choice because you have the ability to see both sides of any question. The positive part of this is that you are very fair-minded and can be trusted to settle disputes. Your greatest challenge is to take any one- on-one encounter and make the most of it.
Moon is in 25 Degrees Leo.

You always want to be proud of yourself and will never do anything that will make yourself look bad. You need the respect and admiration of others and enjoy attracting attention to yourself. Everything you do tends to be self-emphasized and self-exaggerated. Very stubborn, willful and independent yourself, be sure to allow others who are close to you the similar right to "be themselves." Your need for love, affection and reassurance, and your tendency toward vanity, allow you to have your head easily turned by flattery. The more insecure you are, the more you tend to be a showoff. You love games and sports as a matter of fact, you would usually rather play than work. Be careful of a tendency to be snobbish and uppity -- it does not become you.
Mercury is in 08 Degrees Libra.

You are known for not jumping to conclusions about things. You tend to weigh all possible choices very carefully before making a decision. When in the slightest amount of doubt, you will compromise rather than ruffle any feathers. You are a true raconteur of culture and taste -- your ideas and opinions are neat, elegant and refined. A born diplomat, you dislike discord so much that you will go out of your way to make others feel comfortable and at ease. You speak softly and pleasantly.
Venus is in 19 Degrees Virgo.

You express your love and affection through selfless service to people or causes. You have a tendency to underestimate yourself and doubt your self-worth. This is very demeaning and should be avoided -- learn to love yourself as well as you do others. Your standards of perfection are very high -- you are attracted to relationships based on duty and responsibility. You are supercritical of yourself and others and, at times, prefer to be alone rather than deal with any imperfections in yourself or in those with whom you might relate.
Mars is in 21 Degrees Cancer.

Your moods are very important to your overall well-being. You are confident and self-assertive when you are feeling upbeat, and you are retiring, irritable and grumpy when you get depressed about anything. Very sensitive, you wear your heart on your sleeve. You are easily angered whenever you think someone has slighted you. It is best for you to show your anger immediately and let it all out, rather than to try to hold it in or to hold grudges for a long time. You're extremely loyal and defensive of your family, neighborhood, community and culture.
Jupiter is in 05 Degrees Cancer.

You must be emotionally secure in order to grow and develop. You are happiest when your family and community support and nourish you and boost your morale. Whether your childhood experiences of love and emotional dependability were positive or negative will set the tone for your emotional growth and stability as an adult. When you feel at ease with yourself, you are able to offer assistance to those who need a helping hand.
Saturn is in 27 Degrees Leo.

Extremely self-reliant, you set very high standards of conduct and decorum for yourself, and you expect others with whom you associate to be that way, too. It is important that you had a strong father figure or role model early in life to mold your life course and direction. When you feel that those around you are unworthy or behaving badly, you withdraw, preferring solitude rather than associating with those who might besmirch your reputation.
Uranus is in 10 Degrees Scorpio.

You, and your peer group, demand to confront life at its deepest and most meaningful levels. Very compulsive and obsessive in your approach to everything, you will avoid anything that is casual or superficial, especially when it comes to relationships. You will seek out and explore new methods of healing as well as different ways to deal with deep-seated emotional problems.
Neptune is in 13 Degrees Sagittarius.

You, and your entire generation, are heavily involved in investigating and idealizing foreign and exotic intellectual systems and religious philosophies. The most extreme ideals will be pursued with gusto. You will be at the forefront of humanitarian attempts to improve the lot of those who are in need of assistance. You will be comfortable with the concept of the "global village."
Pluto is in 14 Degrees Libra.

For your entire generation, this is a time of radical changes in society's attitude toward marriage and interpersonal relationships. There is a general fear and awe at the power inherent in making emotional or contractual commitments -- they will not be entered into lightly.
N. Node is in 15 Degrees Libra.

You find it very difficult to be comfortable being alone -- you would much prefer to be in an environment where many people are working together toward common goals. Your charming and sincere approach to others assures your popularity -- you have the gift of being able to ease tensions just by your mere presence. You're the perfect "team player" willing to sacrifice your own importance so that the group goal can be accomplished. Be careful, however, not to become overly dependent on your interactions with others -- you have personal private needs that should not be neglected.

-----------------------------------------------------------------------------------------

LINKS: